Remote Work is Here to Stay
Dominica is regarded as having the Caribbean's best remote work program by Kayak, the #3 top US travel website. With the highest category points going to 'local prices' and 'health and safety,' it is no wonder that remote workers enjoy working in Dominica's nature. According to Visa Guide (an online guide for global visas with 25M+ annual visitors), Dominica's program benefits include: ease of obtaining a digital nomad visa; tax exclusion; low cost of living; flavorful and delicious food; and leisure activities.
Data scientists have predicted that remote work is here to stay with 25% of all jobs in North America expected to be remote by the end of 2022. Prior to the COVID-19 pandemic, only about 8% of all jobs offered any options to work from home. And although more face-to-face contact is permitted, tens of millions of workers worldwide are seeking to work outside of their usual work or home office. Many are opting to travel to remote and exotic destinations in the pursuit of work-life balance. More employers are encouraging remote work as it tends to lead to higher employee retention, job satisfaction and decreased stress levels.
Dominica's Work in Nature (WIN) Program has been specifically designed for these remote workers who want more out of life – like relaxing, recharging, and breathing fresh air! The destination provides some of the most scenic locations in the Caribbean, surrounded by an abundance of nature, enriched vibrant culture, and the friendliest people in the world.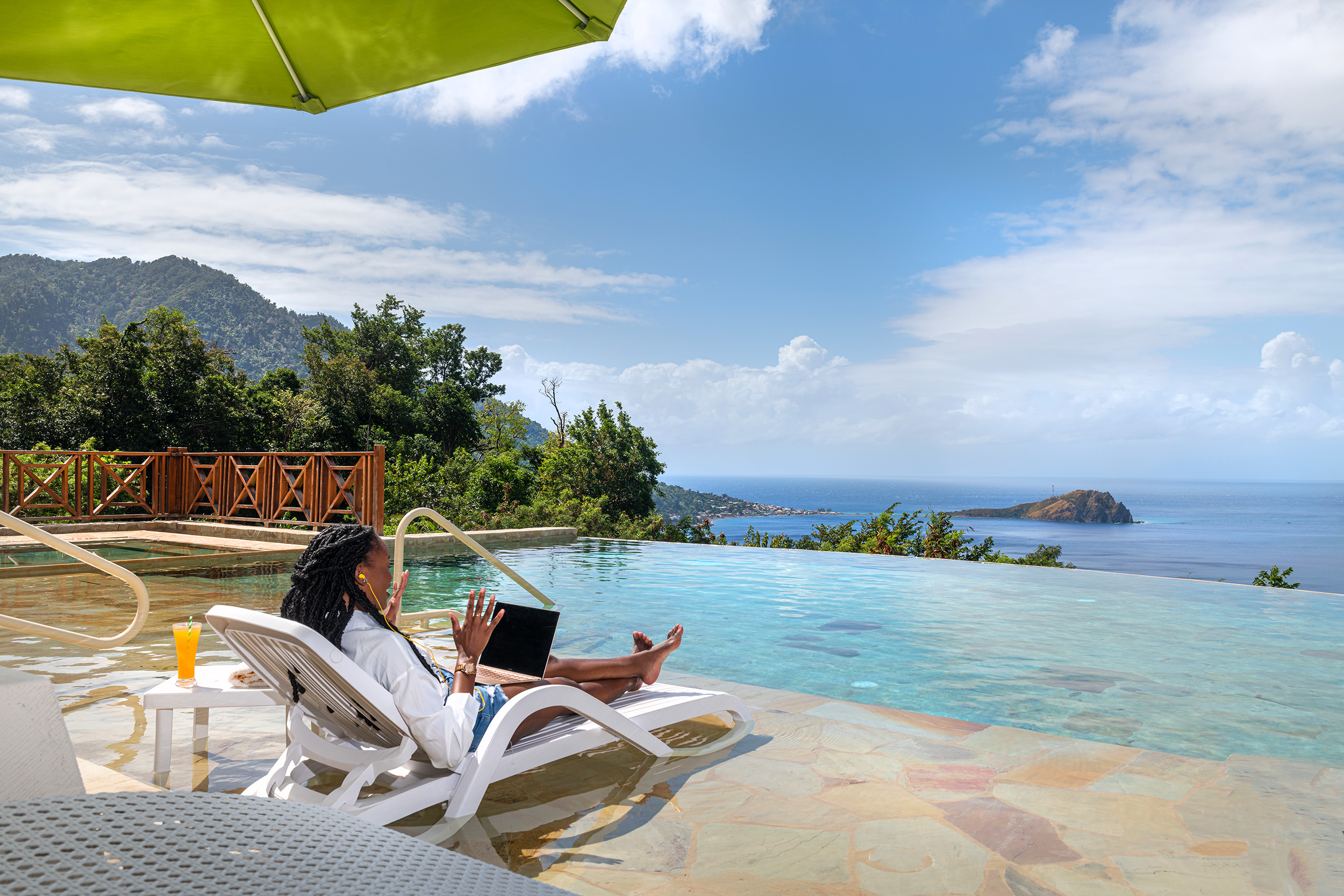 The WIN program provides individuals and families the opportunity to work remotely in Dominica for up to 18 months. Preliminary statistics show a 100% increase in WIN applicants from 2021 to 2022, and an increase in inquiries of 12.7% over the same period. This growth indicates a growing number of workers who prefer to leave the stress of the world behind and switch to a healthier and more liberating lifestyle.
Welcoming to individuals and families, Dominica has safe transports systems, and a high standard of hospitals and schools. The entire island enjoys excellent internet connectivity. A testimonial from Olivia describes the island as a place to be content with the quality of life, while working remotely using the reliable internet on the Nature Island:
Don't just dream of living in paradise – get started today! Come and spend some time living, breathing, and enjoying life with us. Dominica is connected to nature, and connected to the world! For more information, please visit www.windominica.gov.dm.