The daily nonstop flight departs from Miami
December 8th marked the first anniversary of American Airlines' direct, nonstop service to Dominica from Miami International Airport. The addition of this direct flight helped make the Caribbean island of Dominica more accessible than ever before, especially for American travelers. The flight from Miami to Dominica grew in popularity, influencing American Airlines to move its flights from two to three times weekly, and then to daily in April 2022.
We are absolutely thrilled with the growth in tourism we have seen as a result of American Airlines' direct flight to our beautiful Nature Island. We are excited to continue this partnership into 2023 and continue welcoming more travelers to our island, especially with the return of our in-person cultural events.

Colin Piper, CEO/Director of Tourism
This is the first direct flight to the island offered by any airline service from the contiguous United States. As of November, American Airlines' service is responsible for more than 13,000 arrivals in 2022 alone. American Airlines has transported nearly 33% of all visitor arrivals by air to the island, many of whom are stayover visitors from the US. This will make 2022 the best performing year for US stayover visitor arrivals since 2017.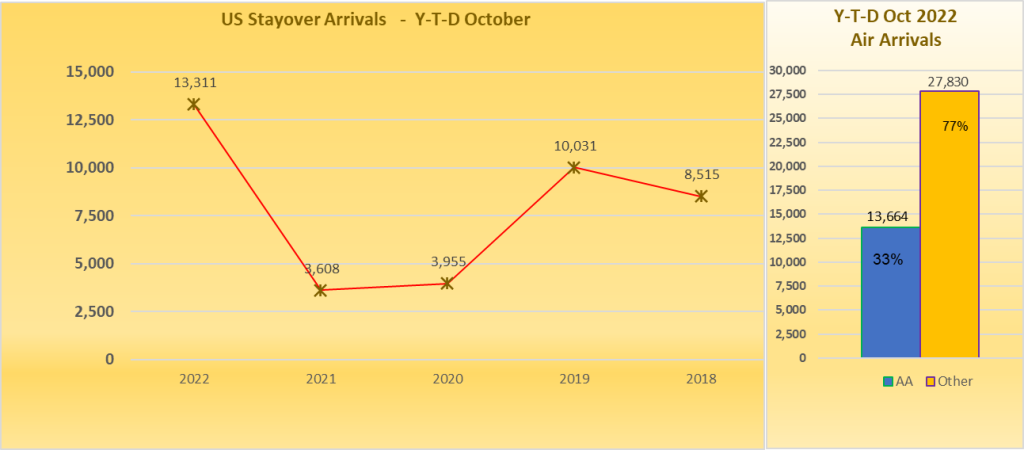 "Our hope for this new offering was to increase the number of travelers able to explore the island and all it has to offer, especially those from the United States," stated Colin Piper, CEO/Director of Tourism at Discover Dominica Authority. "All facets of our industry are being positively impacted, from hotel occupancy levels, to the taxi operators and tour guides who are seeing an increase in business."
Dominica has made significant strides in recent years to position itself as a major tourism destination in the Caribbean. The increased services with American Airlines has made it easier for travelers from the North American market to easily access the unique experiences available on the island, including world-renowned nature trails, sperm whale watching, diving, eco-friendly stays and iconic festivals celebrating the island's rich culture and history. The first anniversary of this service coincides with many exciting announcements for 2023, like the return of Mas Domnik, the island's carnival celebration.