Caribbean Airlines will increase its service to Dominica from Trinidad by adding a return service on Fridays beginning April 7, 2023. Currently, Caribbean Airlines operates service to Dominica on Thursday from Trinidad and then onward to Barbados, and offers service from Barbados to Dominica on Mondays onward to Trinidad. The flights operate on the ATR 72 which have 68 seats.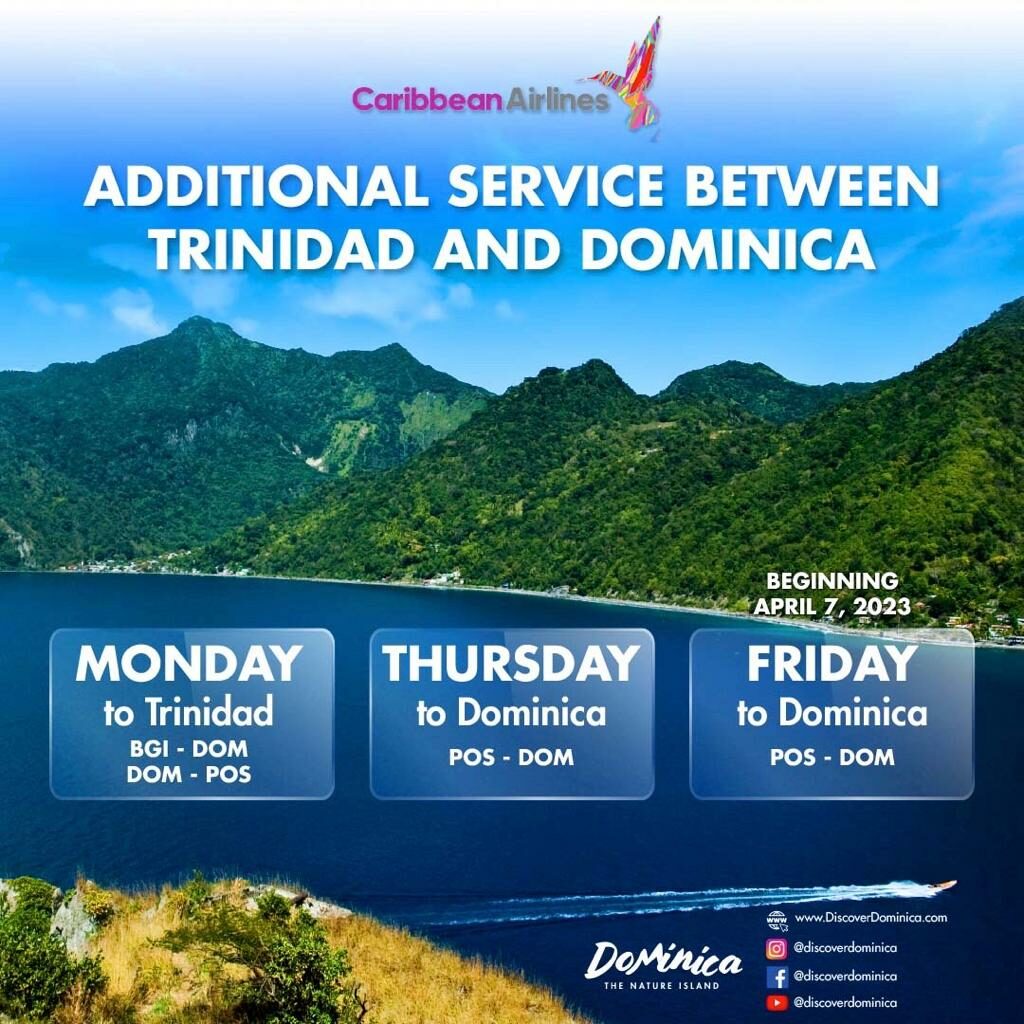 Travelers can now fly from Port of Spain, Trinidad on Thursdays and Fridays (beginning April 7, 2023) and depart Dominica on Mondays via Caribbean Airlines. The service is now increased from two weekly flights to three weekly flights with an increase of 68 seats or 33% .
New York to Dominica Weekly Route Now Available
Travelers from the Tri-State Area of New York can also travel on the same day to Dominica via Caribbean Airlines. For example, one may leave New York via JFK at 7:30am on Friday, and arrive in Dominica by 6:45pm, staying over for one week and departing Dominica on Friday at 7:40pm and arriving back at JFK on Saturday at 5:30am.
The addition of this Friday return flight between Trinidad and Dominica not only increases the options of those resident in Trinidad to visit Dominica but also allows our friends from the [New York] Tri-State area to travel inbound same day to Dominica via convenient service from JFK through POS and outbound on the redeye to return to JFK and begin their day.

Colin Piper – Director of Tourism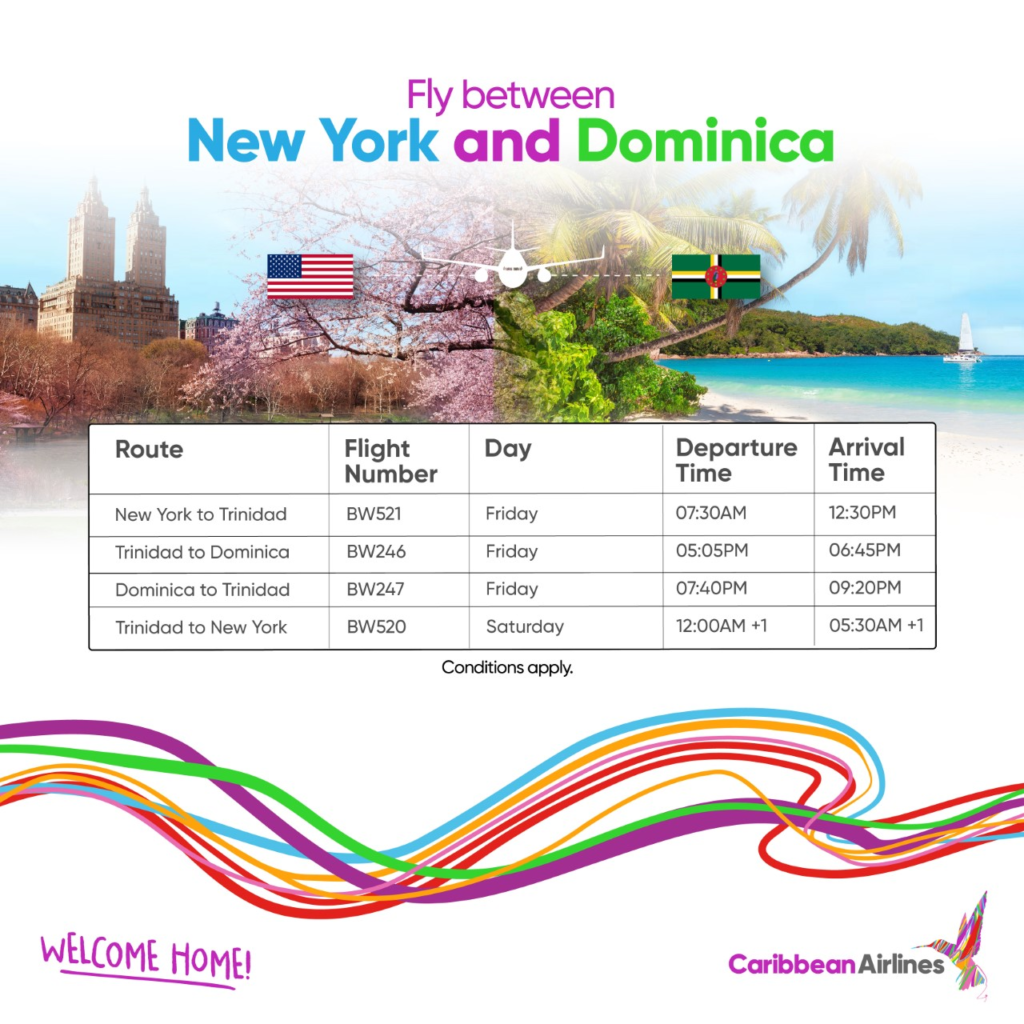 Layaway Travel Options
Caribbean Airlines is now offering its travelers the option to secure fares for travel between two to twelve months with a 25% deposit. Fare for all Caribbean Airlines flights can be paid in phases, except for those between Trinidad and Tobago. For more information on the Caribbean Layaway product, please click here.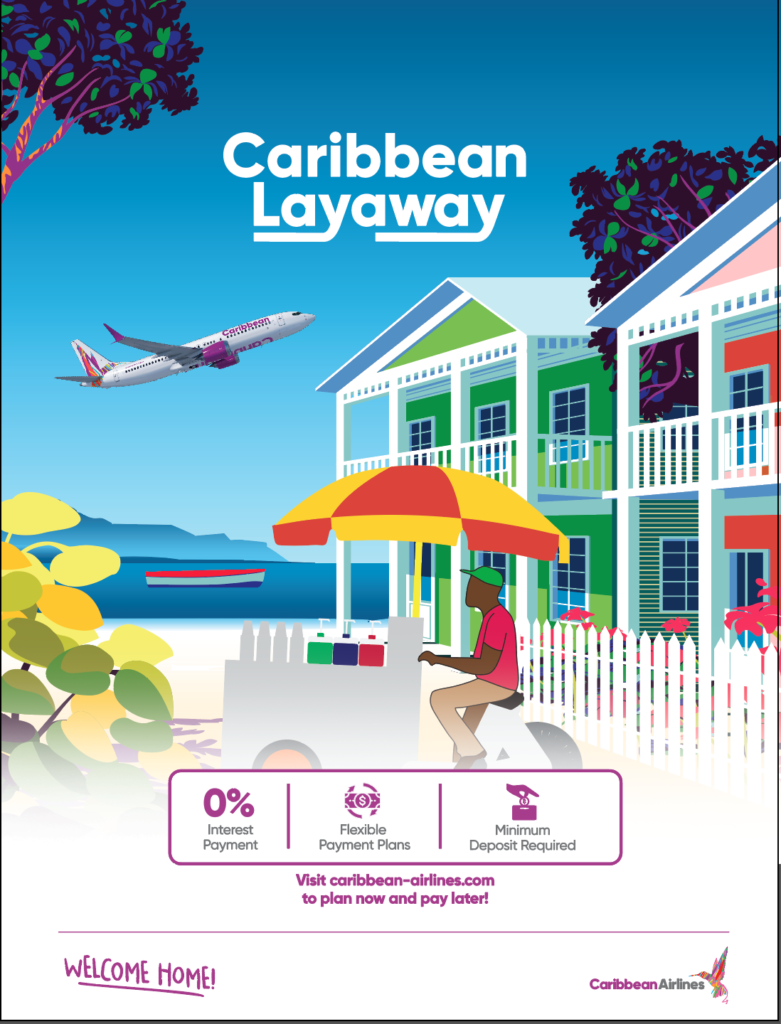 For more information on Dominica, contact Discover Dominica Authority at +1 767 448 2045. Or, visit Dominica's official website: www.DiscoverDominica.com, follow Dominica on Instagram and Facebook and take a look at our videos on YouTube.