Discover Dominica Authority (DDA) is pleased to partly sponsor the 62nd JCI West Indies National Convention taking place at Jungle Bay Dominica from October 16-22, 2022. JCI is a nonprofit organization of young active citizens aged 18 to 40, from all sectors of society, who will engage in high-quality training and business summits where they plan and share initiatives for positive change within their individual communities. JCI's governing body for the upcoming year is elected at the convention's National Annual General Meeting, which also highlights the JCI annual calendar.
The convention provides the Jaycees community and associated members opportunities to reconnect with old colleagues, meet new friends, and expand their networks. As part of the planned activities, the convention members will be treated to island tours featuring some of Dominica's most majestic natural attractions like Champagne Reef and Beach, Titou Gorge, Fresh Water Lake, Spanny Falls, Jacko Falls, and Mero Beach. The group will also engage in aqua and adventure activities including kayaking, scuba diving, canyoning, and river tubing. Additionally, they will experience Dominica's local food and cultural entertainment.
The convention is hosted by a different country each year and this year's convention in Dominica will host 100 persons from the Caribbean and the Americas. This includes Antigua, Barbados, St. Vincent, Grenada, Trinidad and Tobago, Guyana, Jamaica, and the USA. This year's theme is "Mabrika: Celebrating Regional Diversity" in support of Dominica's indigenous people – the Kalinago.
We are excited and honored to host the JCI West Indies National Convention in our beautiful country Dominica. We want the region to come and explore what is uniquely Dominican as a suitable destination for business and leisure in an unmatched natural environment. We are indeed thankful to the DDA for their openness to welcoming 100 hundred JCI Leaders and for their continued support of our convention.

Merrita Hyacinth, JCI West Indies National Convention Director
As part of the planning process, DDA welcomed National President of the West Indies, Brettney Romeo, on a courtesy visit to its office where she provided a brief update to Director of Tourism, Colin Piper and DDA's management team. Miss Romeo was also presented with a branded welcome bag during her visit on August 5, 2022.
DDA looks forward to supporting more events such as these to promote the island's MICE (Meetings, Incentives, Conventions, and Events) sector. The convention presents unique tourism opportunities through pre-advertising of the destination during the registration period and expenditure from stayover visitation, as well as extended stays for the Independence season and potential repeat visitation. Such conventions allow participants to exchange ideas and experiences in suitable environments, while also providing a variety of rejuvenating wellness activities for work-life balance.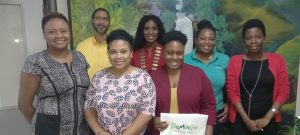 L-R: Kimberly King (Destination Marketing Manager - DDA); Colin Piper (CEO/ Director of Tourism - DDA); Marcy Gachette (Product Development Assistant - DDA); Brettney Romeo (West Indies National President - JCI); Meritta Hyacinth (Convention Director - JCI); Lyndelle Felix (Dominica Local President - JCI); Odile Jno. Baptiste (Product Promotions Manager - DDA)